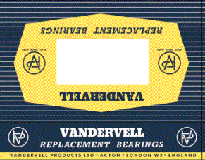 Engine Bearing sets for 1958-74 6 cyl. engines
Crankshaft bearings in the smaller sizes as these were long out of supply: STD, 010, 020 and 030 for the 2.6 and 3.0 Commer and Humber engines.
Timing chain tensioners for 1956-67 4 cyl. engines
These rubbers were not designed for modern oils. Therefore we invested in remanufacturing these critcal parts using the correct rubber for modern engine conditions and use.
Trackrod sets Sunbeam Talbot 90
We have funded a project to find a suitable replacement for the trackcontrol rod- and balljoints long out of supply for the ST 90, ST Alpine and early Humbers.
As the individual trackrods were getting very difficult to obtail, we have invested to create a better and easy to install replacement.
Avaliable as complete set including locknuts and trackrods.